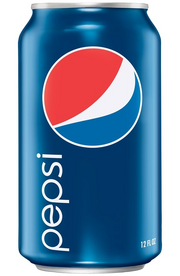 Pepsi is a carbonated soft drink manufactured by PepsiCo. Pepsi invented in 1898 and introduced at first as
Brad's Drink
and it was later renamed, Pepsi-Cola on June 16, 1903. Pepsi has 150 calories and has 41 sugars. Some other types of Pepsi are listed below:. Different celeberties like Britney Spears, Micheal Jackson, and more appeared in Pepsi commercials, advertising Pepsi.
Wild Cherry Pepsi
Caffiene Free Pepsi
Memorial Day Pepsi
Pepsi Fresh
Lemon Pepsi
Pepsi Lime
Pepsi Summer Chill
Pepsi Samba
Pepsi 100
Ad blocker interference detected!
Wikia is a free-to-use site that makes money from advertising. We have a modified experience for viewers using ad blockers

Wikia is not accessible if you've made further modifications. Remove the custom ad blocker rule(s) and the page will load as expected.