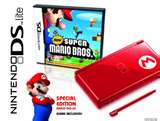 Nintendo
is a world famous video game company located in Japan, which is in the continet Europe. They have made many popular game series like
Mario
,
Animal Crossing, and
Pokemon
. They have Japan-exclusive gaming consoles. They have also made many gaming consoles like the Gameboy, Gamecube, Nintendo DS and DSi, and the Wii consoles. They have also created the soon to be released Nintendo 3DS. The Nintendo 3DS is the newest Nintendo system and it also has a slide to add 3D to your game. You can also make Mii's and take 3D pictures and more. Nintendo was founded on September 23rd, 1889 but started out as a card company and not a game company like today. Mario is Nintendo's mascot. Nintendo's headquarters originally was in Kyoto, Japan.
This is a list below for some Nintendo characters:
Cranky Kong
Candy Kong
Diddy Kong
Donkey Kong
Toad
R.O.B.
Captain N
Birdo
Princess Peach
Princess Daisy
Baby Mario
Baby Luigi
Luigi
Bowser Jr.
Bowser
Nana
Bubbles
Barbara The Bat
Cupid
Baby Peach
Baby Daisy
Yoshi
Squirtle
Pikachu
Charzard
Ash
Jigglypuff
Wigglytuff
Mr. Mime
Mew
Butterfree
Diglett
Weedle
Kakuna
Chansey
Oshawatt
Snivy
Onix
Ditoo
Celebi
Raichu
Clerafairy
Buneary
Charmander
Ad blocker interference detected!
Wikia is a free-to-use site that makes money from advertising. We have a modified experience for viewers using ad blockers

Wikia is not accessible if you've made further modifications. Remove the custom ad blocker rule(s) and the page will load as expected.