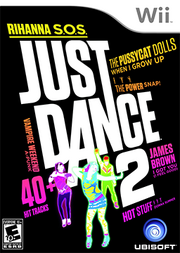 Just Dance 2 is a music game developed and published by Ubisoft Paris for Wii. It is a sequel to Just Dance. It was released in North America on October 12, 2010. A sequel, Just Dance 3 is coming out in October 2011. The concept of the game is the same as the original Just Dance. There are four new dance modes. In
Just Dance Mode
players can get together and dance for as long as they want, just for the fun of it. The second new mode,
Duets
allows players to dance together.
Dance Battle Mode
is a team mode that features up to 8-players to play. Lastly is
Just Sweat Mode
which is a exercise mode that allows players to measure the energy they expend while dancing. Below is a list of songs to dance to in Just Dance 2. Another game called Just Dance: Summer Party had almost all of the DLC songs.
Vampire Weekend- A-Punk
Supergrass- Alright
Reggaeton- Baby Girl
MIKA- Big Girl
The Beastie Boys- Body Movin'
Blondie- Call Me
Jamiroquai- Cosmic Girl
Beyonce- Crazy in Love
Justice- D.A.N.C.E.
Sorecer- Dogomba
Lipps Inc.- Funkytown (Best Buy Edition only)
Avril Lavigne- Girlfriend
Outkast- Hey Ya!
Madonna- Holiday
Donna Summer- Hot Stuff
Digitalisim- Idealistic
James Brown- I Feel Good
Mardi Gras- Iko Iko
The Weather Girls- It's Raining Men
The Jackson 5- I Want You Back
The Pussycat Dolls- Jai Ho! (Best Buy Edition only)
Kris Kross- Jump
Harry Belafonte- Jump in The Line
Kool & The Gang- Jungle Boogie
Bollywood- Katti Katandal
The Frightners- Monster Mash
Junior Senior- Move Your Feet
Charleston- Mugsy Baloney
Ike & Tina Turner- Proud Mary
Boney M.- Rasputin
Fatboy Slim- Rockafeller Skank
Rihanna- S.O.S.
Benny Benassi- Satisfaction
The Clash- Should I Stay or Go (Best Buy Edition only)
Quincy Jones- Soul Bossa Nova
Marine Band- Sway
The Rolling Stones- Symptany For the Devil
Franz Ferdiand- Take Me Out
The Ting Tings- That's Not My Name
Ke$ha- Tik Tok
Britney Spears- Toxic
Elvis Presley- Viva Las Vegas
Wham!- Wake me Up Before You Go
The Bangles- Walk Like An Egyptian
The Pussycat Dolls- When I Grow Up
DLC Songs
Edit
Katy Perry- Firework
Rihanna- Pon De Replay
Mambo No. 5- A Little Bit of Monika
Aqua- Barbie Girl
M.A.R.R.S.- Pump Up The Volume
Steppenwolf- Born to Be Wild
The World Cup Girls- Futebol Crazy
Carl Sandburg- Down by The Riverside
The Lemon Cubes- Moving on Up
A Band of Bees- Chicken Payback
V V Brown- Crying Blood
Panic At The Disco- Nine in The Afternoon
Carl Dougus- Kung Fu Fighting
The Supremes- You Can't Hurry Love
Spice Girls- Spice Up Your Life
Love Letter- Why Oh Why
Nick Phoenix and Tomas Bergerson- Prefessour Pumplestickle
Blur- Song 2
Estelle featuring Kanye West- American Boy
Studio Allstars- Maniac
Sweat Invaders- Skin to Skin
Ad blocker interference detected!
Wikia is a free-to-use site that makes money from advertising. We have a modified experience for viewers using ad blockers

Wikia is not accessible if you've made further modifications. Remove the custom ad blocker rule(s) and the page will load as expected.