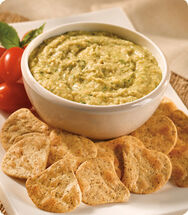 Hummus is a food that can be used as a dip or topping. It is made from chickpeas, lemon juice, garlic, olive oil, tahini and salt. Hummus originates from Levant (A country in the middle east). Many people eat it with foods such as tortilla chips as a snack. Hummus is high in Vitamin C and Iron! In May 2010, the Guinness World Record for the largest dish of hummus in the world returned to Lebanon.
Ad blocker interference detected!
Wikia is a free-to-use site that makes money from advertising. We have a modified experience for viewers using ad blockers

Wikia is not accessible if you've made further modifications. Remove the custom ad blocker rule(s) and the page will load as expected.