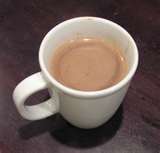 Hot Chocolate is a type of bevarage and most people drink when its cold outside. Hot Chocolate can be put in a bowl, cup, or a mug. You can put marshmellows in your hot chocolate or sugar if you want too. Hot chocolate could be burninig hit if you touch it after you have just made it. You could possibly burn yourseld on the hand. Hot chocolate is sold at cafes and coffee shops like Starbucks and lots of other coffee places around the world. Hot chocolate shows steam marks when it comes out too so don't touch it or drink it because you can burn your mouth and it will be really hot!! You can also put sugar into your hot chocolate just like coffee.
Ad blocker interference detected!
Wikia is a free-to-use site that makes money from advertising. We have a modified experience for viewers using ad blockers

Wikia is not accessible if you've made further modifications. Remove the custom ad blocker rule(s) and the page will load as expected.