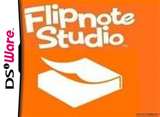 Flipnote Hatena
is a large,
youtube
-like site that can be accessed via computer or
Nintendo
DSi, once the Flipnote Studio game is downloaded from the Nintendo DSi shop. People can create flip-book-like animations and post them up on Hatena for others to view and rate. When making a flipnote, a person can add sounds, use two different colors to draw with at a time(red, blue, or black/white, depending on if the backlite option is chosen on the flip), and use many more things to create videos that can range from a music-video-like flip, to an epic battle-flip. Many videos have been posted, and many have become big hits, sending the creators high in the rankings, making them much more popular than the other users. Every day, the top 10 flipnotes are picked, based on views, stars (a ranking system, involving yellow, green, red, and blue stars. The latter are much harder to get and are worth more than the former, though all stars besides yellows must be bought, or earned), and spin-offs (a video based on the original video that could have been barely changed, or changed completely). You can make your own Flipnote! If you want to visit the website here is the URL:
Hatena
Ad blocker interference detected!
Wikia is a free-to-use site that makes money from advertising. We have a modified experience for viewers using ad blockers

Wikia is not accessible if you've made further modifications. Remove the custom ad blocker rule(s) and the page will load as expected.