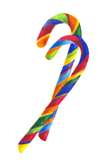 Candy Canes
are a type of candy sold around Christmas and in
 Winter
. The traditional flavor which is white with red stripes all over are commonly found. There are others with the same concept, but they are different colors. There are also different brands like Sweet Tarts or Jolly Rancher. They are shaped as a cane or hook.
Candy Canes are a very popular candy to eat in December, because of Christmas.
Ad blocker interference detected!
Wikia is a free-to-use site that makes money from advertising. We have a modified experience for viewers using ad blockers

Wikia is not accessible if you've made further modifications. Remove the custom ad blocker rule(s) and the page will load as expected.